It's next to getting embarrassed in public when your own computer locks you out. Well, it happens to the best of us. We've thought of many reasons why it does, and figured out different ways of solving it.  But first things first: It's called a lock up.
What is a computer lock-Up
Obviously a lock up happens when your PC stops dead. When you use the keyboard and the mouse they don't respond. Even if you press the Control-Alt-Delete nothing moves.  You can unlock your PC by turning it off for a few seconds and switch it back on.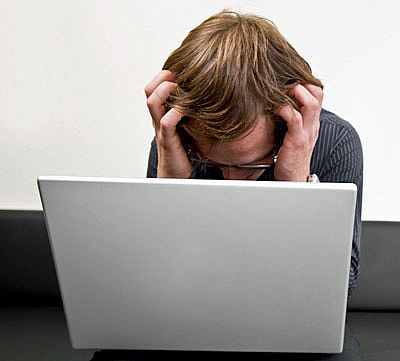 Common causes of computer lock-up
There's close to a dozen reasons why PCs lock up but the common ones are: windows 95/98 instability, PC losing memory, software incompatibility, and viruses.
Common kinds of lock up
You can generally classify computer lock ups according to:
1. User Settings. When you're on the stage of installing windows, it loads your personal settings for your user log in. The setting includes Windows registry, security, and network connections. This process taxes your PC and when it hangs it takes quite a while.
What to do with this
For this reason you need to check your PC's disk space for fragmentation or errors with the swap file. You need to look into the network connectivity—this affects the restoration of your connections later on.  Particularly so in a domain-based environment, your PC's connectivity poses a problem. The problem arises when your system contacts the domain host.
2. Blue Screen of Death. That is, blue screen and weird numbers that you see just before your PC crashes.  Most lock ups after the Windows logo appears belong to this category.  When this happens while your PC is rebooting, it could mean you have installed a mean device driver, if not your PC has been infected with virus and spyware.
What to do with this
Boot in your PC's Safe Mode. This frees many of your PC's working systems, and one of them may be the source of  the lock up. When your PC is in safe mode you can use the system file checker, anti-virus, and others.
At times the safe mode doesn't work. So you need to use your PC's Recover Console. You can install  it along with Windows.
3. A hang before the Windows Logo. If nothing comes up even while your PC is on, go to your PC's Recovery Console that's on your PC's XP Installation CD.    The Recovery Console lets you copy your files and reopen installation. You can also fix your PC's master boot record.
4. Faulty Operating System. You should be bothered when you don't see "Operating System Not Found" on your screen. It can only mean one thing: your hard disk has lost it.
What to do with this
Go to your browser's taskbar and  click "Start"
Go to "Settings" and click "Control Panel"
Then click "Control Panel"  and "System"
Go to the "Performance" tab and click it
Click  "Graphics"
If you see  "Hardware Acceleration" slider, move it to the left.
Then click "OK" to exit.
Restart your PC.
Finally, test your PC after Restart. You may have to repeat the process  if it fails the first time.